Hi everyone! We are out discovering the wonderful region and culture of Savoyard with TV8 Mont Blanc!

Carey out of the City will be presenting original segments online that showcase traditional Savoyard culture, gastronomy, sports activities and business with a positively fresh perspective.
This is the first English speaking series that is for locals, expats and tourists alike.
Carey out of the City would like to invite you on the adventure!
If you are in the French Alps and would like to join in the adventure, we invite you to contact us!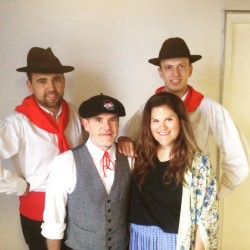 When I lived in NYC I often went to the theatre. I loved seeing Broadway musicals, off-Broadway plays, the ballet and the opera. I really took advantage of all the culture and diversity NYC had to offer.
So when I heard about the  Festival Mondial des Cultures du Monde de Chambéry, which translates to the World Festival of World Cultures in Chambéry, I had to find out more.
For the past 50 years, dance troupes from over 200 countries have come to the Rhone-Alps region of France to perform traditional dances with live music accompaniment.