BeFit Aix-les-Bains, France – My Regimen Kickstarter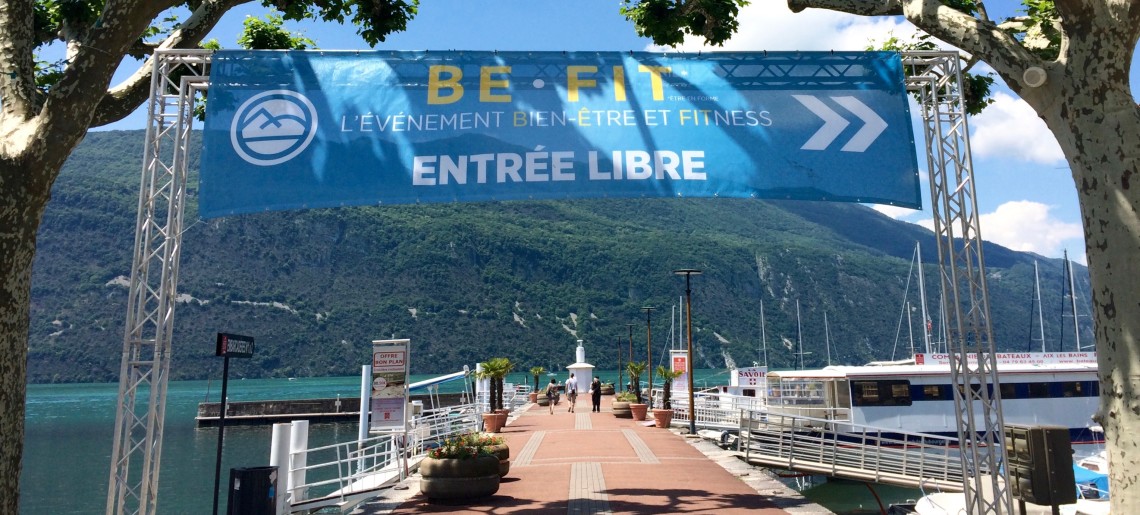 I am always up for new things to do, especially if they are wellness related.
I saw an event called BeFit being advertised so this past weekend, I attended the BeFit event at the Grand Port in aix-les-bains, France.  The location was ideal. Aix-lesbains, aka, the Alps Riviera is located on Lac Bourget and is nestled between the French Alps and the Jura mountains.
Luckily, the weather was great too! Hot enough to paddle board and swim and but cool enough for a run. There is little humidity in the French Alps which makes it very pleasant.
BeFit ais-les-bains was a 2 day fitness event held Saturday, June 9 and Sunday June 10th that had a variety of courses including running, cross training, stand –up paddle, Qi gong and my favorite, yoga. Ohm.
Entry was free and class tickets were available for purchase online beforehand or at the event for 10 euros per class. * Many classes were sold out, so it was best to purchase tickets beforehand. There were free group classes offered on the main stage.
Before deciding whether to attend (weekends are precious), I checked out the  BeFit Facebook site,
to research the program and the instructors. One that got my attention was Julie Doumolin. A fellow yogi, Julie is the founder of HappynGood. It is indeed #happyngood.
I took one of her classes on Saturday and returned on Sunday where I ran into her after my run. Julie resides in the South of France and travels throughout the world living and promoting her happyngood lifestyle. I was equally impressed with her in person and now have her app on my phone.
In addition to the free and paid fitness courses offered, there were also a number of sponsors and exhibitors.
My friend, triathlon champion, Arlett visited last weekend and she was telling me about a waterproof floatie from Basel, Switzertland, where you put your belongings at float on it. Basically, the waterproof bag secures your belongings in and out of the water. The company is called, Wickelfisch and I spotted them at BeFit. I bought a blue one, tested it the same day and am happy to say it works. I am still an owner of a cracked iphone.
I also tested a new plant based protein supplement made in Europe. Currently, I bring my plant based protein for my morning smoothies from the USA because I can't find something as good in Europe…yet. The company is called Sync (formerly Synergy) and while they have a few flavors, the Apple Cinnamon Pie was the stand out. No gluten, no lactose, no soy, no GMOs = no thyroid side effects for me. It is only available online currently.
I also had a 'discovery' reflexology massage for 10 Euros and learned about Wellnest, a local company that offers unique experiences for companies.BeFit was a great experience of both fitness and discovery. The only setback was most offerings were only in French.  This may be frustrating for a non- French speaker because along with many other events in France, the titles, tag lines and communication is in English. It appears English- friendly, but this is most often not the case.
None the less, for me, BeFit was a great kickstarter for my summer health regime.
Merci BeFit!
* My honest review is based on my experience and I did not receive any form of payment or free merchandise for my review.
If you've enjoyed this post, please consider sharing it.