French Floral Arrangements – Cours d'Art Floral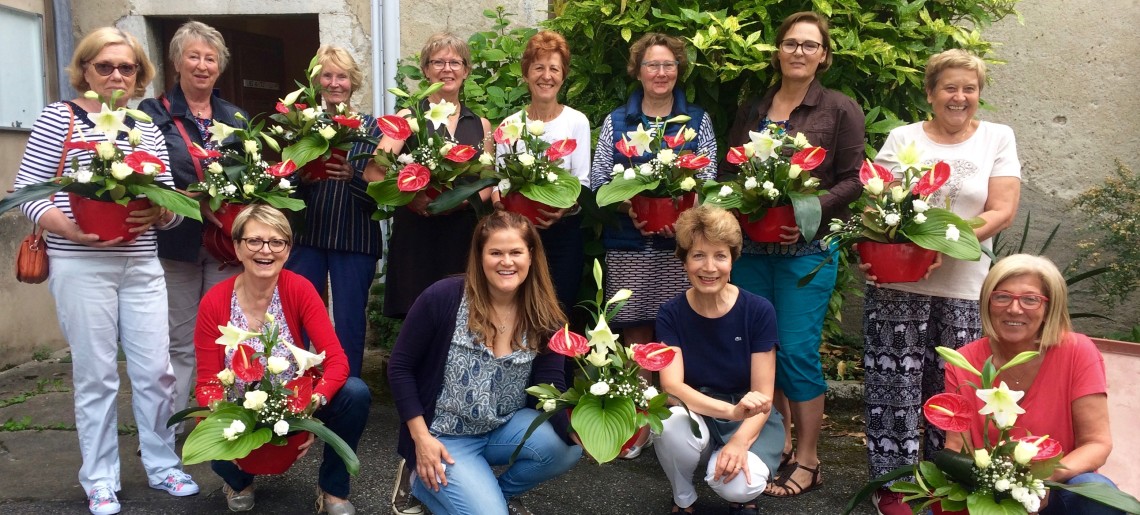 All towns in France have a Mairie, the town hall and Mayor's office that is often located in the center of the town and usually has a church close by. In fact, if you select a town without an address (just the city) on a GPS in France, it will take you to the Mairie. The Mairie is responsible for governance of the town as well as culture and community. Usually, there is a benevolent, aka, volunteers that form associations and propose and approve activities.
These activities range from celebrations like the 'fête nationale', Bastille Day on July 14th, and 'vide-greniers et brocantes', a big neighborhood garage sale, music concerts, sport activities such as yoga and walking groups, as well as workshops. If you're lucky, the French town will offer many activities.
'Mon petit village' in the French Alps recently offered a Cours d'Art Floral that translates to a floral art course. I immediately signed up, as
spaces were limited. It took place in a city center space and for $12 Euros, I learned about specific flowers, cutting, arranging and caring.
Truth be told, I have done my own flowers arrangements for years including for some for small events. Nonetheless, I was curious to know how the French culture taught this, and I wanted to practice my language skills and meet new people.
In 1 hour, our class was introduced to flowers, foliage using the colors, symbolic of Savoyard culture (red and white) and we  each created an arrangement. Each person cut flowers using our own pruning tools as well as an Opinel knife. This knife technique was new to me and I had to borrow one. The Opinel knife is from the French Alps region and seemed like a pre-requisite for the course.
I was nervous to cut myself and although I preferred special cutting shears that I have used in the past, I used the knife. Luckily for me, no band aids were required.
Our teacher Christiane Schemidt was pleasant, professional and thorough. She was hands on, especially with me, the nervous knife cutting student. She gave us a vase, flower foam and 4 types of flowers: Lys blanc, Anthurium rouge, Roses and divers feuillages. In English, white lily's, red anthurium, roses (2 types), and foliage including baby's breath leaves. She walked around and assisted people when needed and kept us on schedule.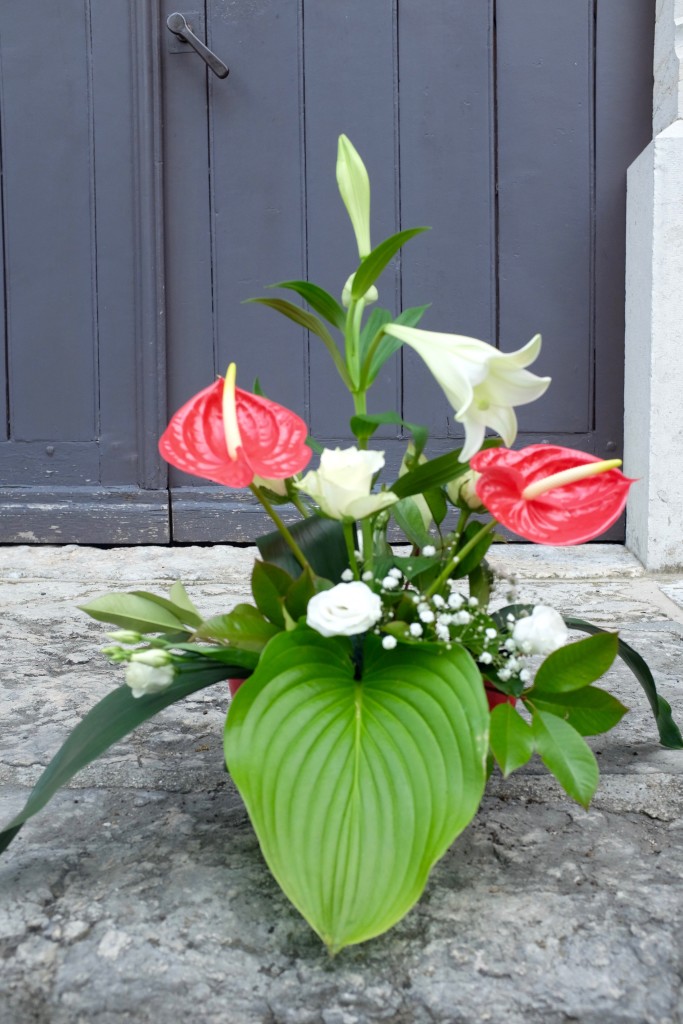 My class created a unique arrangement we got to bring home. I made mine specifically for 'mon Belle Mere', mother in law, because French Mother's Day was conveniently the next day.
I came away with a great experience, a new perspective on flower arranging, a few new words to add to my French vocabulary and a lovely arrangement.
C'est top experience. Merci beaucoup!
When in France, check your local village to find out what they have available and when.  À bientôt!
If you've enjoyed this post, please consider sharing it.