Snowshoe Louboutins in the French Alps!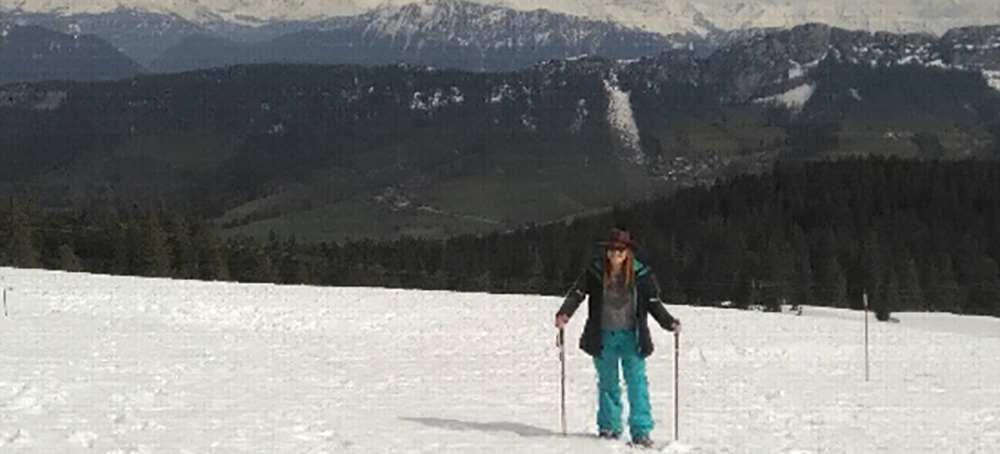 They're made in France, they're red and they're +3 inches high… they're my snowshoe louboutins.
Ski season is coming to a close but it is still a good time to snowshoe, or as they call it in French, "Raquette."
Last weekend, I went to the snow covered Semnoz to snow shoe with friends my HUBFF (husband and friend forever). I love the Semnoz for a variety of reasons, one of them being the views!
The Semnoz had 360 degree views of mountains and
is part of the Bauges mountain range. It has an altitude of 1,699 m above sea level. From there you can see La Tournette, and the famous, Mont Blanc.   From a particular spot (go to the cross and have your back to Mont Blanc) you can see Lake Annecy on the left, and Lake Bourget (Aix-les-Bains) on the right.
Heading up to the snow in April, requires layers of clothing, because the temperature can change quickly. I had a shirt, pull over, fleece lined jacket and ski jacket plus ski pants, heavy socks, a hat, sunglasses, and gloves (which I didn't need).
In addition, I prepared my NYC self with a Klean Kanteen water bottle (reusable, no plastic residue), a protein granola bar (I made it myself, thank you very much), tissues, sun screen, hiking shoes, snowshoes and expandable hiking poles.
When I put on my snowshoes, I thought, "I am in France wearing French, red soled shoes and they are high (good for going uphill). There are like snowshoe louboutins! If you read my, 3 C's" post, you know j'adore Christian Louboutin.  Now, Louboutin does not make snow shoes….yet. 😉 Hey, you never know.
When I mentioned this to my sweetheart and our friends, they said, "who?" Clearly, I am not in New York City anymore.  The brand that I was wearing is by a local company called TSL outdoor. They were lightweight, had great traction and efficient ergonomic bindings that were well designed. I would recommend them if you are looking for snowshoes.
All you need is a good pair of hiking shoes and then you adjust the snowshoes to them. Super simple.
We snowshoed all afternoon and had a wonderful time. After each peak, we would look down at the trail we paved to see our fresh tracks in the snow.
Other than an occasional snow mobile and some paraponters, we had the mountain to ourselves.
Many places in the area offer accommodations including hotels and gites and also have equipment rental for a small fee.
To get to the Semnoz, take the D41/D110 road to the Crêt de Chatillon. The road is windy, but it is not a difficult drive. There are a bunch of places to park and explore.  We drove up towards the restaurants and parked across the street.
While there are a ton of places to go for all levels, I prefer places with easy driving access and the best views. I don't want to stress about avalanches, security risks, over crowded areas or get caught in tourist traps. I also like the variety of levels to choose from in one single location. You can snowshoe at an easy level or advanced on these mountains.
Here are some of my favorite snowshoe places in the French Alps that are a little less traveled.
Le Semnoz
Sur  Lyand / Grand Colombier
Le Revard
Saint Bernard
Le Trelod
You can snowshoe in the French Alps from December to April. Always check the weather and be prepared! Water, sunscreen, warm, dry clothes and a camera to take pictures.
If you have questions or want to know more about the how, what or where, contact me.
If you've enjoyed this post, please consider sharing it.