Hi everyone! We are out discovering the wonderful region and culture of Savoyard with TV8 Mont Blanc!

Carey out of the City will be presenting original segments online that showcase traditional Savoyard culture, gastronomy, sports activities and business with a positively fresh perspective.
This is the first English speaking series that is for locals, expats and tourists alike.
Carey out of the City would like to invite you on the adventure!
If you are in the French Alps and would like to join in the adventure, we invite you to contact us!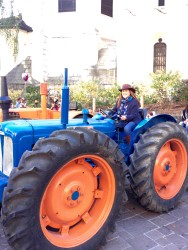 A is for Alpage and
Annecy
and animal parade. The Alpage in the Rhone-Alps region of France features all 3.
The 'Retour de l' Alpage' is an annual event that celebrates the return of the animals descending from the Alpine mountains to the villages during Autumn.
This year marks the 45th anniversary of the event, which officially started in 1973!
The animals have spent the summer months enjoying the mountain air and the green pastures in the region. They eat the wild flowers and herbs that add specific flavor to the (read more…)