Weekend Round-Up / Easter 2018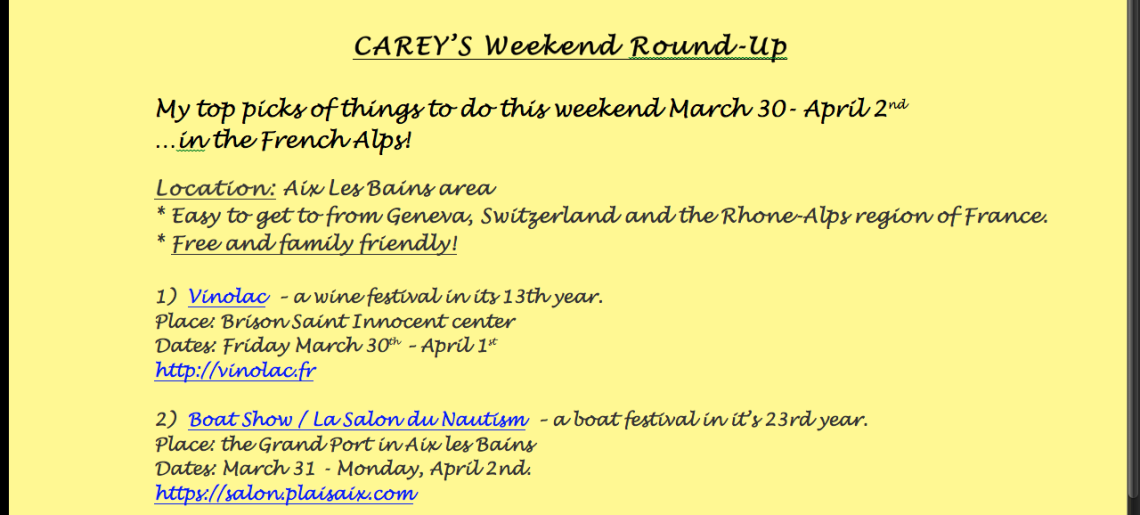 Easter weekend is early this year. Do you know why?  Easter is traditionally celebrated the first Sunday after the first full moon following the vernal equinox. The full moon is on Saturday, March 31, 2018, which makes Sunday, April 1st, Easter.  This is actually a Blue moon since it is the 2nd full moon of the month.  Since it's coinciding with April fools day, keep an eye out for bunny tricksters. 😉
In France, Monday is also a holiday and most people have a long weekend.
There are two events taking place in the Aix-les-Bains area of the French Alps that are both free and family friendly!

1) Vinolac – a wine festival in it's 13th year. This year Vinolac features 45 vineyards around France and is happening for 3 days; Friday, March 30th, Saturday, March 31st and Sunday April 1st.  It is in Brison–Saint–Innocent, a small village located next to Aix-les-Bains in Savoy, France. This beautiful village has a micro-climate, so notice the olive and fig trees, along the vineyards with the lake backdrop when you are walking around. Super easy to get to from Annecy, Geneva and the surrounds areas.  http://vinolac.fr
2) Boat Show / La Salon du Nautism – This event is in its 23rd year and features boats and activities on Lac du Bourget.  The 3 day festival at begins on Saturday, March 31 – and ends on Monday, April 2nd. Hours are from 10am – 7pm rain or shine. Lots to discover including local food and drinks. https://salon.plaisaix.com
It's only a 5 minute car ride, a 10 minute bike ride and 30 minutes by foot from one place to the other. The views of the Jura mountains on one side of the lake and the Alps on the other are stunning no matter the weather. There are also many hiking trails you can take that are marked from both places at levels ranging from easy to difficult.
Hope you enjoy the festivities and Happy Easter!
If you've enjoyed this post, please consider sharing it.